Show Blog
Rail Services EU-IR
Project cargoes shipped smoothly
As a pioneer in transport business, everyday we are looking for new routes and solutions that are more rate reasonable and time flexible so they will result in gratifying services from our side and more convenient for our clients. Such solutions could bring new opportunities for Hoorand's clients and they will be one step ahead of their competitors in this growing market.
Hoorand is now offering rail services from all over Europe to Iran and Turkey. By using this route you could benefit from the lower freight charges on your mass cargoes; This will reason in lower total costs on your purchase and you could bring your quality merchandise with a reasonable rate in the market than your competitors; Therefore all parties - supplier, consignee and consumer - will benefit.
If you are purchasing from a manufacturer locate in a small city in Europe there will be nothing to worry about, by using our large network we will handle your cargo from the supplier's warehouse till destination.
For any questions and queries please contact us on: sales@hoorand.com
Your Comfort, Our Vision …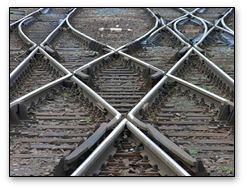 2015-01-31