Show Blog
Ocean Freight
Direct Services from All over the World
Having worked actively on your FCL and LCL shipments from Far East to B.Abbas, We have taken another step forward and now are offering direct services from Northern European ports to B.Abbas.
Hoorand can now offer its clients with Direct Ocean Freight Services demanding to send their cargoes via Hamburg or Antwerp to B.Abbas.
We can fully handle your cargoes at origin and provide you with services like: Pick up, Warehousing, Stuffing and Lashing, Customs Clearance.
More information can be provided by our Sales Dep.: sales@hoorand.com
Hoorand is also offering the most competitive rates from Far East and India to B.Abbas, these ports include Shanghai, Ningbo, Seoul, Pusan, Nhava Sheva, Mundra and many other asian ports.
For any questions feel free to contact our Sales Dep.
One Partner for All Your Cargoes …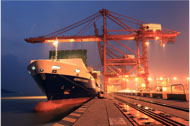 2015-06-23